7 Steps to Create an Effective Video Marketing Strategy
Now is the moment to start video marketing if you haven't already. With traditional marketing's effectiveness falling and video's popularity growing, video marketing strategy has become a must-have for any enterprise.
Social media strategy has been elevated thanks to video marketing. Video is an effective medium because it allows you to engage emotionally with your target audience. Creating an emotional connection with someone is what makes them want to conduct business with you. The odds of gaining a new consumer are greatly increased by establishing likability and trust.
By 2022, online videos will account for more than 82 percent of all consumer internet traffic, indicating that video is a digital marketing trend that is here to stay (Cisco).
"In this blog, brought to you by a top-rated video marketing company, you will learn everything you need to know to jump ahead first into video marketing. Start at the beginning and work your way to the end if you're new to video marketing. Alternatively, pick and choose the sections that are perfect for you if you're here to improve your talents and take your video marketing to the next level.
Why Video Marketing is Important?
The internet reaches more people than any other marketing channel on a global scale, and video marketing is the newest trend in today's world.

The face of video advertising has shifted; one minute of video is worth 1.8 million words.

Every day, around 100 million internet users watch online videos.

64% of video marketing viewers go on to buy something.

Every second, four new people join social media.

Every day, Facebook users share nearly 4 billion items.

It's a new style of advertising that's quick, effective, and worldwide.
Video marketing is a type of content marketing that uses as the main form of creative collateral. In other words, the use of video material to reach your target audience and promote your brand, service, or product is known as video marketing. Why video marketing? Because it works, video advertisements work better than static image ads in every way.  Biteable, the world's easiest video maker, found that video advertising has a higher reach, receives more clicks, and costs less per lead (
biteable.com
).
Why is Video Marketing Effective for Businesses?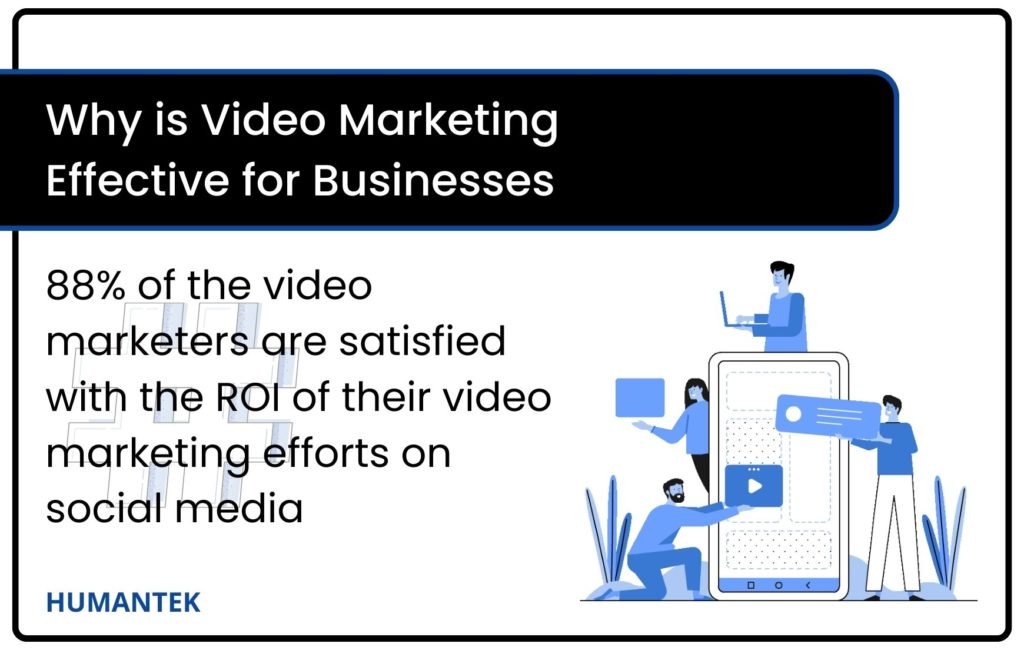 All the signs of video marketing statistics suggest that video is the future of marketing.

Six out of ten customers, according to Google's research, would prefer to watch web videos than watch television

YouTube claims that its viewers watch more than 1 billion hours of video every day.

According to a recent survey by Aberdeen, a research and analytics company, businesses that use video generate 49% more income than those that don't. While video used to be primarily a marketing tool, it has since developed into much more. Videos, with their ability to graphically explain and display things and concepts, can assist businesses in not only showcasing their products and services and attracting new clients but also in attracting new employees and making the work environment more productive.
The value of video marketing strategies has risen by leaps and bounds in recent years. The strategy behind your video marketing is just as vital as the execution. Whether you're new to video or have been using it for years, you'll need a detailed plan to help you understand what it's all about. Also, how you intend to assess progress and where you intend to go.



To create an effective social media video marketing strategy, follow our 7-step guide.
How to Build a Video Marketing Strategy?
The first stage in any marketing campaign, including your first video campaign, is to determine your campaign's goals and objective or how will you measure its success.

The easiest method to define the goal of your marketing video is to figure out where it fits into the marketing funnel.

Video is beneficial at every level of the marketing funnel from awareness at the top, consideration in the middle to conversion at the bottom. Let's look at this stage in more detail.
• Awareness: Top of the funnel
The marketing activities carried out to raise awareness about a brand or product are referred to as the top of the funnel. Awareness is a foremost step of marketing. If somebody does not know about your business there's no way for them to do business with you. Growing your audience using awareness videos is a good idea.

If you're creating an awareness video, you should set goals that are tied to brand discovery rather than sales. Total views, 3-second views, and view duration are all good indicators of success.
• Consideration: Middle of the funnel
Marketing actions that align products and services with visitors' challenges and requirements are referred to as middle-of-the-funnel marketing.
You build longer engagement and trust-based connections with your already-captured audience in the middle of the funnel.
useinsider.com
The click-through rate is the most important metric to consider while producing consideration videos, followed by view length. The click-through rate tells you how many people were interested enough in your video to go to your website or other content. View length is a secondary metric that helps authenticate your viewers' degree of engagement.
Consideration of content is extremely important for increasing your YouTube subscriber count and other video platform followers.
• Conversion: Bottom of the Funnel
Do you have a product or service that you wish to market right now? Then 'conversion' is your goal. In the marketing funnel, conversion is the stage where relationship-building pays off. Sharp prices or unique selling features can be effective if you're meeting your customer for the first time.

Obviously, the most critical metric for your conversion videos is sales. The click-through rate is another important metric to monitor. You may have a gap between your advertising and your actual product if people are clicking but not buying.
2. Decide on Your Platforms
Every major social media platform, as well as others, has its own video format. Older platforms, such as Facebook, support a variety of video formats, whereas newer platforms, such as Snapchat and TikTok, rely largely on a single format.
If you've never used video before, start with the platforms where you already have a following. According to data collected by Statista in February 2019 (
www.statista.com
), users on Instagram, Facebook, and Snapchat spend over half of their time on the platforms watching videos.
Because videos are so popular for marketing, there is a need for dependable and flexible websites that allow users to upload videos quickly and securely. Because there are so many options and the list is so long, we've compiled a list of the top video-sharing platforms available right now to save your time and help you to select the best option.
The second-largest search engine in the world is YouTube, which has over one billion active users. While YouTube's popularity has never been questioned, many people are unaware that the platform is so powerful that YouTube-hosted videos are now outranking traditional website links in Google search results.

As the internet's demand for video grows, Google responds by expanding query diversity, or the number of different search result categories that appear in an index. This implies that instead of just website links, you're more likely to encounter a range of videos in your search results. To put this in context, YouTube videos frequently appear in the top ten search results on Google, even if they aren't the most popular.
Vimeo is a well-liked video-sharing platform. In contrast to YouTube, Vimeo focuses on videos generated by individuals, studios, and brands, such as short films, animations, and documentaries, among other things. Keep in mind that its free plan only permits 500 MB of storage and 10 file uploads each week, so if you're thinking about growing a following on Vimeo, you might want to look into their subscription plans to see which is best for your needs. If that isn't an option, you can always compress your movie online to ensure that it stays within the required limitations.
Twitch is the most popular streaming platform for content creators all around the world. When it comes to live streams, it's similar to YouTube, which has been its direct competitor in recent years alongside Facebook.

The website is absolutely free to use, with the exception of optional premium extras that can help you and your viewers have a better streaming experience.
Many individuals use Facebook as a social media platform to share a variety of films, including personal daily life events, advertisements and commercials, inspiring and instructional videos, and more. You can share videos on your personal timeline or a company page you own on Facebook, as long as they are under 10 GB in size and 240 minutes in length. Facebook is wonderful for sharing or promoting your creations, thoughts, and ideas, as well as receiving an immediate response from your peers or audience, who benefit from a set of tools to assist them to voice their perspectives.
Reels, Live, Stories, and Instagram Video are the four formats available for video content on Instagram right now. In recent years, video content has grown on Instagram, with 91 percent of users stating that they view videos on a weekly basis.

It can be difficult to keep track of all of the different video formats available on the site. But it's also given marketers new tools to tell stories and reach their target audiences.
3. Select Your Video Type
  Choosing the right type of video for your brand is a vital part of your marketing plan. It's necessary to think about the usefulness that a video will offer to your company when selecting the type of video.

Here are some examples of different sorts of videos and their benefits.
These are beneficial and might help to raise brand awareness among new customers. They frequently use sophisticated rather than casual tones to develop a professional identity.
These provide insight into the operations and workers of an organization. They can be used to entertain the audience or to show what's going on behind the scenes.
Interviews with guest speakers are a great approach to introduce your audience to a new influencer and the other way around. Giving a guest the virtual microphone can be entertaining and can add authenticity to your brand.
• Video Advertisements on Social Media
You may make video ads on social media platforms like Facebook and Instagram. These videos assist in attracting visitors to your website and product pages. With social media ads, you may reach a large number of individuals.
These videos appear to be consumer highlights in marketing and serve to build social proof for your brand. Businesses that use testimonial films can boost their brand's image and strengthen consumer relationships.
4. Video Content Planning
A great way to plan video content is to understand what your audience wants to see in your videos. You should do keyword research. If you have Google console linked to your online platform, you will be able to see what keyword combinations people are using to find content in your niche.
In the long term, a strong content production strategy will save time and money. Whether you plan with a flowchart or pen and paper, you must understand how films are made and filmed.
Following are some important elements of video content planning.
• Identifying the necessary props and equipment
• Script writing
• Script revisions
• The video's storyboard
• Organizing the shot for the finest results. Mostly, filming will be non-linear.
• Bringing the right individuals together to be featured.
• Choosing the locations where you'll shoot and factoring in natural light for scheduling.
• Determining where the modified footage should be sent
• Deciding who will sign off on each step's approvals. For example, you should check that the script sounds good and matches your voice.
• Ensure that the music you're using is allowed to use.
5. Have a Good Knowledge of Post Production
Allow more time for post-production, particularly if your videos will be used for commercials or require more thorough editing. Post-production doesn't just involve cutting scenes and putting them back together to audio. Subtitles, text overlays, call-to-action (CTA) displays, and other features are also included.

While all components of filmmaking are important, post-production is a critical step in the development of any movie or film. This editing technique has the ability to bring any film to its full potential, ensuring that it connects with the audience.
6. Schedule and Promote the Videos
It's time to schedule and promote your finished video. Do not think of social media platform videos as one-and-done. Depending on your social media schedule, you may upload a final film to many networks over the course of a month. You may promote it multiple times on Twitter. To ensure that many viewers tune in at the right time, you must frequently promote live streaming.

Multiple videos could be created from a single filming session. Different footage might be patched together to make new videos or used for promotion. Consider the possibilities when it comes to video promotion.

Using a social media management platform that includes YouTube publishing options such as category, tags, playlist and privacy settings can save your time if you are promoting your video to various social networks.
7. Understand and Analyze Metrics
The final and most important step in any strategy is to analyze it. If you don't check the statistics linked with a video, you won't know how well it performs. What do the view counts entail? What are the watch times? What about the shares, likes, and comments? Each network has its own set of metrics, so you should familiarize yourself with them before diving into production. The success metrics you choose should be in line with the objectives you set at the start. It's also important to keep in mind that videos from the past will be viewed. A three-year-old video could still be relevant to your users today with the correct combination of keywords and evergreen topics.
We hope this blog has sparked some ideas for your next series of videos or prompted you to study more about video marketing. If you need more guidance about video marketing so, get in touch with us online at
www.thehumantek.com
to chat with a video strategist.